First episodes of Ramadan series are really promising
Every year during Ramadan, we get swamped with the number of shows airing on TV and it's a real challenge to choose what to watch. Usually the first five days of the month are spent binging them all. Yes, we sat down and watched a pretty good number of episodes on the first two days and to be completely honest we got intrigued.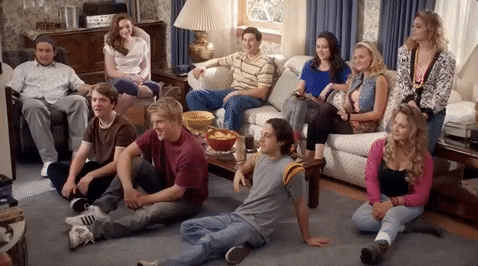 2018's series are already pushing us towards the edge of our seats, hinting at a greater moral behind them. Whether tackling social matters, thriller plot, comedy … etc. there's a message and it's amazing to see this huge number of actors and actresses working hard to deliver.
Here's what we watched and got our minds blown away with:
Layali Eugenie
Staring Amina Khalil, Zafer Abdeen, Engy ElMoqadem, Carmen Bsaibes and more of outstanding performers, the show takes us to an era we dream of reliving. In the late 1940s, the plot kicks off showing different lives of our characters with Amina's and her husband's complex character. Jealousy ruling their marriage and it ends badly – yes, plot twist screaming from the very first episode. It's not the first time to see Amina outstandingly bringing out her character to life but we have to admit that we got emotionally rattled by her performance in the last 5 minutes of the first episode… that's a show we can't miss now. The show underlines a social issue when marriage takes place between two from different society classes back at that time, when they come from different upbringings and how trust is a vital pillar towards a successful life.
Bel Hagm El A'Aely
Staring the outstanding actor Yehia ElFakharany, this show is the perfect mix of comedy and drama. Right from the first episode we picked on the extremely important issue this show tackles and that is how scattered families are these days. Yehia's character chose to leave a job that suffocated him to do what he truly loves and become very successful in it yet he had to pay a deep price, one that cost him a miles difference between him and his family. It's all about parents' relationship with their children, how to balance your social life and how to truly follow the path you love. It's got a wonderful message and we're down for it.
Awalem Khafeya
Unlike the light comedy and fun familial atmosphere we're used to witness in Adel Emam's shows every year, in 2018 he comes back hard with a mind-blowing thriller. The first episode opens up on an intriguing scene were pick on a journalist writing and hiding her diary between the covers of a book. Her diary presumably contains truths about very well-known figures and they won't let it go easily, she's hunted and murdered and now the diary has mysteriously fallen between the hands of a relentless opposition journalist. How will he handle such a burden to befall him, we're yet to see and we're most definitely intrigued.
Abu-Omar ElMasry
It's been a while since Ahmed Ezz appeared on the Ramadan screen and this year he's not messing around with us. He's coming back strong with a politically mind-blowing story to tell. Written by Mariam Naoom, the story is a perfect mix of drama, politics matters, thriller and action. Right in the first episode we get exposed to Ezz searching for his son who's been taken by terrorist group, raised there and it seems like Abo-Omar has a history with that group. Is it a history of vengeance or was it an alliance, which remains to be figured out.
Ayoub
Mostafa Shaaban leaves behind the rich, wealthy, womanizer to bring us a true story of an employee who's been wrongly imprisoned. In the first episode, we meet Ayoub who's not been well educated but is continuously working hard to provide for his mother and sister and who's signed on multiple bills to be able to afford marrying his sister; only to end up being cheated and imprisoned. Portraying the life of a hard-working class, Mostafa Shaaban is taking us right in the middle of a true issue of our society and we're really excited to see the development in the next episodes.
…
Not that this is the end of it, there are many more shows we're yet to sit down and watch because this Ramadan things are incredibly interesting and exciting.
Now it's your turn, tell us what you watched and loved?